The Court is made up of seven Judges and Judges, nationals of the OAS member states. The OAS Secretary General requests the States parties to the Convention to present a list with the names of their candidates for Judges of the Court. Each State party may propose up to three candidates, nationals of the State that proposes them or of any other member State of the Organization.
The Judges and the Judge are elected in a personal capacity by the States parties, by secret ballot and by an absolute majority of votes, during the OAS General Assembly immediately prior to the expiration of the mandate of the outgoing Judges and Judges.
In the Order of Precedence: Judge Ricardo C. Pérez Manrique, President; Judge Eduardo Ferrer Mac-Gregor Poisot, Vice President; Judge Humberto Antonio Sierra Porto; Judge Nancy Hernández López; Judge Verónica Gómez; Judge Patricia Pérez Goldberg; and Judge Rodrigo Mudrovitsch.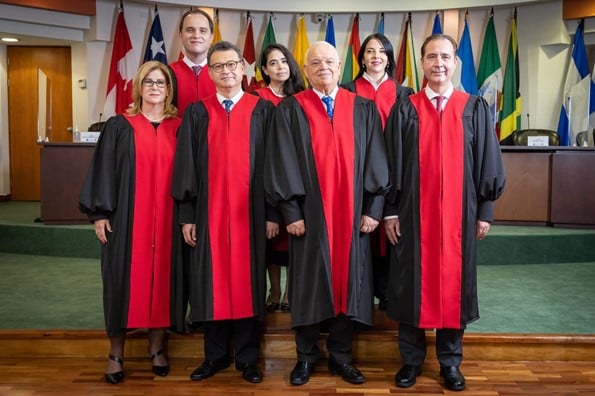 | Judge Name | Country | Position | Information |
| --- | --- | --- | --- |
| Ricardo C. Pérez Manrique | Uruguay | President | Resume |
| Eduardo Ferrer Mac-Gregor Poisot | Mexico | Vice President | Resume |
| Humberto Antonio Sierra Porto | Colombia | Judge | Resume |
| Nancy Hernández López | Costa Rica | Judge | Resume |
| Verónica Gómez | Argentina | Judge | Resume |
| Patricia Pérez Goldberg | Chile | Judge | Resume |
| Rodrigo Mudrovitsch | Brazil | Judge | Resume: Spanish | Portuguese |